Healthyminds Online Clinic
Free yourself from Stress, Anxiety & Depression the natural way
Book a session with Gareth or Enfys
Gareth Strangemore-Jones
HPD, DSFH, DMH, AHD, CNHC, MNCH (Reg), AfSFH, NCTJ, MSC-CPA, PGCE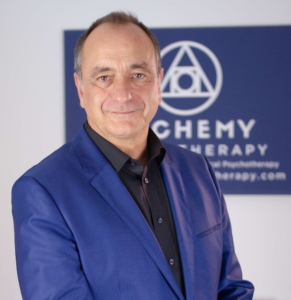 About Gareth
Co-Founder & Director of

Alchemy Hypnotherapy

Consultant Medical Hypnotherapist & Clinical Psychotherapist

Neuroscientist specialising in Neuroplasticity and Psychoneuroimmunology
More than 20 years' experience in Health & Wellbeing

Trained at The Clifton Practice with the eminent David Newton & Susan Rodrigues

Guest speaker with David Newton at The National Council of Hypnotherapy (NCH) Annual Conference 2018

Co-Founder & Director of The Penarth Practice & Lightbulb Solutions Group, Sport & Performance, Education, Training & Transformation (presentation, speaking & seminars)

Medical Hypnotherapy for Cancer Patients (Marie Curie Cancer Care)

Winner of Zokit Business Awards (2017) for "Outstanding Contribution to Community" 

Special Commendation from Cancer Research
Reiki Master, Quantum Healing Master & Other Holistic Therapies

Marketing, PR & Communications Consultant (Quantum Communications)

Author, Journalist & Broadcaster (Worldshift Media)
Teacher (Schools, Neath College, Cardiff University, Brunel University)
Founder, Fundraiser & Trustee (Tsunami Relief, Ecoshelter)
Winner of "Intelligent Optimist of the Year" (ODE Magazine)
Enfys Jones
HPD, DSFH, DMH, AHD, CNHC, MNCH (Reg), AfSFH, RDM, BA (Hons), PGCE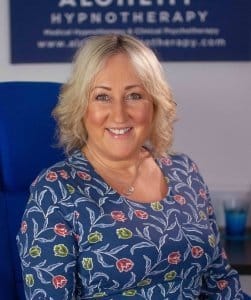 About Enfys
Co-Founder & Director of

Alchemy Hypnotherapy

Consultant Medical Hypnotherapist & Clinical Psychotherapist

Neuroscientist specialising in Neuroplasticity and Psychoneuroimmunology
More than 20 years' experience in Health & Wellbeing
Trained at The Clifton Practice with the eminent David Newton

& Susan Rodrigues

Guest speaker with David Newton at The National Council of Hypnotherapy (NCH) Annual Conference 2018

Co-Founder & Director of The Penarth Practice & Lightbulb Solutions Group, Sport & Performance, Education, Training & Transformation (presentation, speaking & seminars)

Medical Hypnotherapy for Cancer Patients (Marie Curie Cancer Care)

Winner of Zokit Business Awards (2017) for "Outstanding Contribution to Community" 

Special Commendation from Cancer Research
Director of Enfys Studio Health Centre (Advanced Clinical Duopody Reflexology Sportsflex, Reiki Master & Other Holistic Healing Therapies)
Onsite-therapist: workplace stress: various media organisations
Singer, Actress, Contemporary Dancer, Choreographer & Director
Published writer: novels, articles, playscripts, multimedia shows
Tutor: The Royal Welsh College of Music & Drama
Primary School Teacher (specialist in pupils with learning difficulties)
How it works
The Healthyminds Online Clinic sessions cost $200 AUD for 50 minutes and you pay on booking.  You will receive a confirmation email and receipt as well as a link to click at the time of the appointment. Simply click that link and you will be welcomed into your own personal online consulting room.
The first session is an Initial Consultation where Gareth or Enfys will take notes that include what issues or challenges are being experienced and what goals you'd like to achieve along with some medical details and other relevant information.  They will then explain how the brain works and how these issues arise and, most importantly, what can be done. You will very quickly learn how you can get on track and stay on track.  Ongoing sessions are a combination of talking therapies, relaxation and guided visualisation according to your needs and choices.
Please note
Our full price list is
1:1 Online $200 AUD for 50 minutes
Couples or 2 People Therapy $300 AUD for 50 minutes
Family Therapy $400 AUD for 50 minutes
Group Therapy (Up to 6 People) $600 AUD for 50 minutes
If you are paying in any other currency, it will be converted automatically on booking.
There is a 48 hour cancellation policy as there are limited slots available per practitioner.
ALCHEMY LIFE THERAPY
Healthyminds Online Clinic
Natural Brain Chemistry Creating Positive Change
Clinic & Office
Alchemy Life Therapy
6, Rowan Close
Penarth
Vale of Glamorgan
United Kingdom
CF64 5BU
Clinic Hours
Mon – Thu: 8am-8pm (UK timezone)
Fri: 8am-5pm (UK timezone)
Sat: Closed
Sun: Closed
UK Bank Holidays: Closed
Online Clinic, Group Sessions, Workplace Wellbeing Programmes, Lectures, Workshops, Webinars & Events: By arrangement